The original, and only trademarked PowerBreathing
Pain and Stress Managment through Yoga Pranayama Therapy
Be More Powerful in Your Life
Is wellness and feeling good important to you? Would you like simple and easy pain management, stress management, rage and anger management, breathing exercise using natural health techniques, weight loss, health maintenance, better sleep, quick recovery, and better health? You can have well-being, a balance of body, mind and soul through PowerBreathing™ techniques, based on yoga teaching and training, gentle yoga (a form of hatha yoga), and proper breathing (known as "pranayama," a form of natural and complimentary healing). With properly controlled breathing and complimentary health therapy based on the focus of stretching, relaxation, meditation and concentration, feeling better can be yours by using your own natural healing, life force/prana/chi. Wouldn't that be great?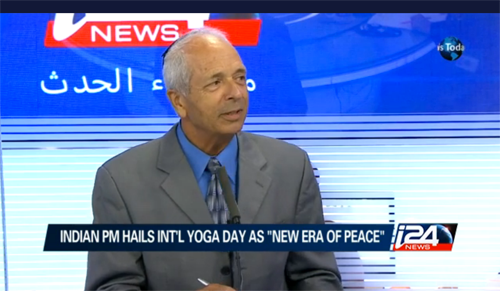 Yonah talking about Stress Management on TV
---
---
>> Click here to see Lipoma Surgery without Anesthesia Video


Satisfied Clients ....

Yonah helped Brian Sigafoos, professional basketball player, get back on his feet again.

Shlomo Carlebach
He called Yonah his "holy healer"

Harvard University's talented basketball luminary, 7 foot tall Brian Sigafoos, suffered an injury to his right foot in the spring of 2002. He felt a searing pain in the top of his foot whenever he put any weight on it. The doctor's diagnosis was that he had suffered a stress fracture around the fourth metatarsal. Brian sought assistance from Yonah Offner, Foot Reflexologist and Yoga Therapist for help. He got the help he needed.

Yonah used foot reflexology and power breathing for a kabalistic-based method and practice that he used for dati concerns.

"My foot feels the best it has in the last year. Applying what I have learned through my sessions with Yonah has enhanced my daily workouts. Yonah has helped me to be much more in touch with my body especially how my feet relate to other parts of my body, preventing injuries. Yonah has given me a promising vision for a healthier, more flexible, happier and more successful future."


- Brian Sigafoos


Brian is now playing professional basketball in Europe.

Yonah Offner has root canal
WITHOUT anesthesia!

On Tuesday, May 10, 2005, Yonah Offner had dental surgery without anesthesia using PowerBreathing by Yonah™ Techniques. The root canal was performed by Dr. Drago Jose in Vista, California. Yonah was ecstatic to report that this surgery was a "piece of cake".
POWER BREATHER TOUTS BENEFITS
OF DEEP BREATHING
San Diego Union Tribune, 2000
When Yonah Offner says it's OK to inhale he's got our health in mind. Especially the unenlightened among us whose idea of deep breathing is a casual, intermittent sigh.

Somewhere between infancy and grade school, perhaps by modeling dysfunctional parents, we lose touch with the most efficient and natural way to breathe. Instead of taking in oxygen through the nose, all the way into our bellies, where it can cleanse and purify the cells, we become "mouth breathers."

In so doing, we're giving new meaning to the term "bad breath." Our breathing is shallow and constricted, even moreso by tension and anxiety. We're operating at as low as 10 percent to 20 percent of lung capacity without even knowing it whether it's a bad air day outside or not.

Offner is the other extreme. A veteran teacher of yoga and yoga therapy in North County, he has taken the long and liberating breaths of pranayama, as the Yoga adherents call it, to a much deeper level. PowerBreathing™, he calls it: as few as three breaths per minute for maximum benefit. Inhale and exhale with your mouth closed. But don't expect to pick it up in a heartbeat.

Teaching PowerBreathing™ one-on-one and in small groups, Offner recommends six deep breaths at a time, from the nose and into the diaphragm, to start. Do it a half dozen times a day or so. Do it especially, when you're under stress or feeling anger.

John Prieskorn, a personal self-improvement coach, embraced Offner's PowerBreathing™ technique as an adjunct to yoga. "It mellows me out right away", Prieskorn said, "I didn't realize that my natural breathing pattern was jerky and uneven though I had been practicing meditation.

Now my breathing is smoother, and I'm more focused and relaxed at the same time." Offner, for his part, truly is empowered by his breathing. For him, it's an anesthetic and an aerobic training device all wrapped into one.

In 1988, he discovered that by slowing his breathing to three breaths per minute he could overcome his dental phobia. He says he's undergone deep drilling without an anesthetic and avoided a root canal procedure by practicing the breathing consistently to get through the healing period.

"In two weeks, the root healed itself," he said. "But it took a day before the pain was manageable." A decade earlier, while preparing for his first marathon, his deliberate, diaphragmatic breaths helped him run 30 miles in four hours, he said. Then, in a marathon in Carson City, Nev., he finished in a little more than three hours.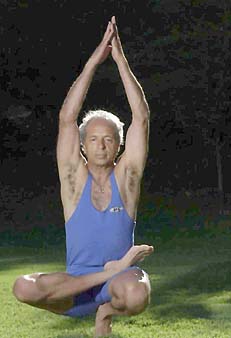 Yonah Offner, Yoga breathing specialist, and International Stress Management expert, practices Yoga
This from a former smoker with high blood pressure and chronic sinusitis who thought his lungs were his weakest link. There was another obstacle to overcome, too: multiple fractures from a 1976 auto accident. Yoga was the catalyst, a tool of rehabilitation enhanced by its focus on breathing awareness.
"PowerBreathing™ is all about building strength in the diaphragm, which is the most important muscle in the body because it takes in the life force", he said.
First, though, the diaphragm must be relaxed. A tightened diaphragm restricts airflow to the lower third of the lungs, where blood circulation is the highest.
By lying on your back and placing your hands on your diaphragm, under the rib cage and in the middle of the chest, you can feel it expand inhale through the nose.
On April 14, Offner says he'll put his PowerBreathing™ system to the supreme test: surgery without anesthesia for removal of a non-malignant tumor from his neck.

For the rest of us though, the most practical application of PowerBreathing™ may be to relieve stress, Offner says. … Offner is planning a series of PowerBreathing™ workshops.

- San Diego Union Tribune, 2000

Schedule a private session or workshop today! Call 052 309-8891 or Skype: YogaYonah or e-mail Yonah at yonah@powerbreathing.com.
"Yonah Offner has opened up a whole new world for me" - L.J., long time pain sufferer - read more ...