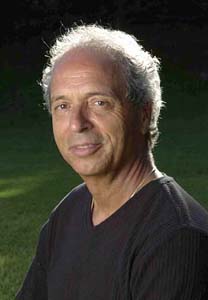 Yonah Offner, health educator
Yonah Offner is an internationally known professional speaker, teacher and COO, leader of "The Offner Team", a consortium of health care educators. He has been featured on TV, radio, magazines and newspapers coast to coast. Yonah walks his talk, most recently seen on TV, having surgery without any form of anesthesia and being able to manage his pain and stress with PowerBreathing by Yonah™.



Yonah is a successful business owner since 1968. Drawing on his 30 years of experience in stress management, he educates on the importance of feeling great and being at your best every day with PowerBreathing by Yonah™. Serving a clientele that includes both large and small organizations, such as General Atomics, American Association of Home Based Businesses, San Diego State University/Kaiser Permanente.

Yonah helps individuals manage pain and stress with PowerBreathing by Yonah™ workshops, teaching simple and easy breathing techniques.

Yonah is a certified Phoenix Rising Yoga Therapist and has been a member of the International Association of Yoga Therapists (IAYT) since 1992.
What Yonah's Clients are saying
The American Lung Association says that if you can't breathe, nothing else matters. Doctor Dean Ornish, who is 87% effective in his reversing heart disease program, says that breathing properly is the best way to manage your stress, and stress and is the major cause of illness and disease. 65 percent of the people who die each year, die from heart disease and cancer. Ornish's program emphasizes stress management and I say that the core of the stress management program is proper breathing. Clients who have been unable to get relief from other modalities of medications and chiropractic methods have gotten relief from physical symptoms that have been long term, such as chronic neck and back pain, digestive disorders, anxiety, and panic attacks. They have found relief from arthritis where medication didn't work. They sleep better at night and experience better digestive processes. Some have been able to alleviate high blood pressure and pain medications. It can even help to manage weight. Some people say they can breathe easily and deeply for the first time.
Schedule a workshop or a private session today, in Jerusalem, Israel or at your facility!
e-mail yonah@powerbreathing.com or call today at Skype: YogiYonah.

Learn PowerBreathing by Yonah™ techniques in your own home with Yonah's new PowerBreathing CD as seen on ABC TV!